Financial Planning Services

As a Certified Financial Planner ™ in Walnut Creek, CA, we develop comprehensive financial planning strategies to help address client goals, and then help clients implement those strategies. We follow the processes outlined for financial planning by the Certified Financial Planner Board of Standards, Inc. (CFP Board).
Click here to view the CFP Board Consumer Guide to Financial Planning.
We are committed to maintaining the highest standards of integrity and professionalism in our relationship with you, our client. We endeavor to know and understand your financial situation and provide you with only the highest quality information, services, and products to help you reach your goals.
Once your goals have been established, we will customize appropriate strategies to suit your vision and objectives based on your feedback and implemented on your timeline. We can help you execute a sound financial program and provide unbiased recommendations on the following financial planning services.
Retirement Planning
Design an investment strategy to help you meet all of your retirement goals.
Investment Portfolio Analysis
We'll keep you informed of how your investments are performing, and to make adjustments as needed.
Tax-Advantaged Investing
Reduce your tax liability and let more of your money work for you.
Wealth Preservation Planning
Pass on your wealth according to your desires and in tandem with your lifetime planning goals.
Retirement Income Distribution Strategies
Help ensure a predictable income in retirement to meet your needs and your wants.
Sudden Wealth: Inheritance and Downsizing
How to manage issues surrounding sudden wealth to maximize your goals and avoid common pitfalls.
As an independent financial consultant, I offer clients a wide assortment of non-proprietary investment products and services that can meet your needs and comfort level and that have passed our due diligence requirements.
---
Why get a Financial Planning Professional?
On a regular basis we work with you to monitor your progress and recommend adjustments so that you continue meeting your personal goals. By keeping clients' objectives in focus, staying in contact with them throughout all market conditions and making investment adjustments as economic or lifestyle conditions warrant, we maintain a constant commitment to putting service first.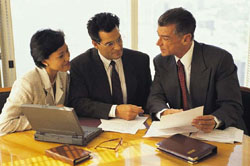 If you would like to learn more about my fee-based financial planning process, or just want a second opinion, please contact me to set up an initial complimentary Financial Planning Consultation